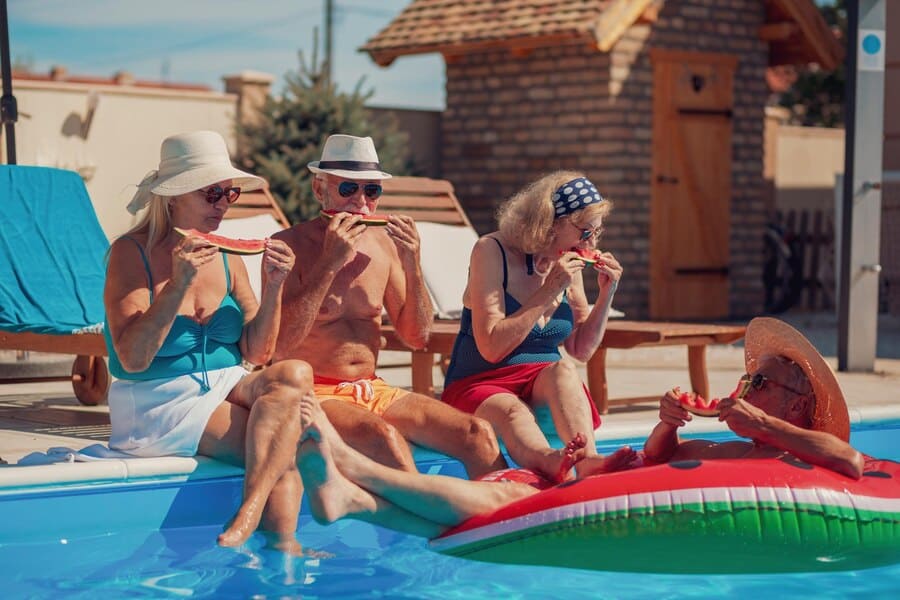 Having a great time is your only job, leave the rest to us!
We are a Senior Resort Living not just in name. It is rather essential for us to provide you with the best living experience there is. Swimming is one of the most sustainable sports and as enjoyable as it is, the benefits exceed bounds.
It contributes to enhancing your cardiovascular health. The heart starts functioning better and becomes stronger, which is paramount for seniors' overall health. Swimming puts your entire body in action. The body movements which get restricted due to age, get enhanced with swimming, thus making the body more flexible and agile. Regular sessions strengthen the muscles, which improves the balance, muscle density, and overall skeletal structure of the seniors.
Alleviate stress, maintain flexibility, cool down on a hot day, or get that perfect summer tan! Enjoy all benefits of a resort lifestyle at Hummingbird Senior Resort Living!
Daily Pool Maintenance

Safety Measures

Trained Lifeguards

Water Aerobics

Sunloungers
What Senior Living options does Hummingbird offer?
We offer luxury living at affordable rates in our Independent living, our assisted living and our very safe memory care area with unique sensory therapy designed to stimulate and promote happy living.
What Makes Hummingbird Different from Other Senior Citizen Care Centers?
While Other Senior Living Facilities may provide the bare minimum, we provide grandeur! Because Luxury never goes out of style.
How much does Senior Living cost?
The cost to live depends on each residents' unique needs, individualized service plan and the floor plan that's chosen. For more information, contact our friendly team today. We'd be happy to help find the best senior living option for you or your loved one.
How do we set up a tour at Hummingbird?
 Click Here to schedule your free tour at Hummingbird Senior Resort Facility.
Make an Enquiry
(XXX)-XXX-XXXX
Previously called "Fry Town" after a local rancher, Oliver Fry, the city was renamed "Sierra Vista" in 1955, which means "Mountain View"!